Abstract:
Integrated marketing communications have become an important concept for every business as it helps the company to deliver its message to the targeted audience most effectively and efficiently. This report aims to present an extensive literature review on the new and initial thoughts of Integrated Marketing communication and the evolution in it over time. The second part of the report consists of an integrated marketing communication campaign formulated for the Ford company to regain its brand equity and trust which has shattered because of the recent product recalls and related problems. The company's integrated marketing plan contains the selected media channels, its message designing, and brand positioning, the promotional mix, the budgeting of the campaign to check the feasibility and reach, and lastly evaluating the results of the integrated marketing campaign and its effectiveness.
MARKETING COMMUNICATION:
While discussing marketing communications, we have Marketing and communication that are two inevitable parts of marketing communication, and any attempt to define marketing communication must incorporate both concepts for concise and coherent definition. So, Marketing communication consists of coordination and careful integration of an organization's many communication channels to transfer a consistent and clear message about the entity and its products or services. (Yeboah & Atakora, 2013)
Initially, marketing communication was defined precisely, incorporating all the efforts that are involved in communicating with customers (learning, 2009), but with the passage of time and new evolutions Schultz (Schultz & Schultz, 2004) and others (J.P.Cornelissen & Lock, 2000), (Duncan, 2002) notice that the integrated marketing communications process calls for a 'big picture approach to Plan promotion and marketing programs and after that, coordination of various communication functions.  While Caywood (1991) commented that marketing communication strategies are required for firms to be developed. Strategies must have recognition of all about marketing activities of the organization not just communication and promotion among customers. A centralized message function is required for integrated marketing communication to communicate effectively about the positioning and common themes of a company. (Caywood, 1991).
Origin of IMC:
The importance of the marketing communication concept has been grown rapidly during the last two decades. (Barnes & Schultz, 1999). The 1980s came with an idea of movement for many companies from less integrated to more integrated and strategic framework regarding promotional tools and activities that lead toward the process of marketing communication. The process of marketing communication involved the coordination of various marketing activities and promotional elements that communicate the message of a firm towards its customers. (Yeboah & Atakora, 2013).
The American Association of Advertising Agencies (AAAA) was the first to define IMC as "A concept of Marketing communication planning that recognizes the value addition in any program that causes integration of various strategic disciplines, e.g., direct response, general advertising, public relations, and sales promotion and create a combination of these disciplines to provide consistency, clarity, and maximum communication impact" (American Association of Advertising Agencies and Northwestern University, 1989).
Therefore, marketing communication can be taken as the bridge between the customers and the company willing to sell its products to the customers. But the marketer needs to be very active and should never take the relationship leniently as Day (2000) stated that a relationship cannot work without the involvement of both parties. (Day, 2000).
Defining IMC:
To achieve the goals of marketing communication efforts, the company just can't rely on one form only, it requires many efforts and techniques to integrate and as Lar, Quech, and Rangan (2005) says that all marketing efforts need to be consistent and should complement each other. (Lal, Quelch, & V. K.Rangan, 2005).
Further taking this phenomenon, many scholars present their own definitions somewhat similarity somewhat different. So defining IMC, Duncan (2002) came up with his definition as "Integrated marketing communication (IMC) is a notion that describes company's aspiration to conform its communication efforts in an integrated and consistent manner to provide a maximum communication effect on its stakeholders. (Duncan, 2002).
(Schultz & Schultz, 2004)broke with that internally focused approach as illustrated by the new IMC definition offered: "Integrated Marketing Communication is a strategic business process used to develop, plan, execute and evaluate coordinated, persuasive and measurable marketing communications programs over time with customers, consumers, prospects, employees and other relevant, targeted, external and internal audiences. The goal of this communication is the generation of financial returns as well as building long-term shareholder and brand value." In fact, Kotler (2003) has put it in words that say IMC is 'a way of looking at the whole marketing process from the viewpoint of the customer'. (Kotler P., 2003). But altogether, IMC is really all about planning a consistent message delivery. (Percy, 2008).
The IMC planning process:
To understand the development process of an IMC approach within client organizations Kitchen and Schultz (2001) put forward a four-stage IMC model as below:
Figure 3. IMC – a four-stage model. (Source: Kitchen and Schultz 2001: 108). (Kitchen & Schultz, 2001)
Duncan (2002) based on his definition of IMC as mentioned earlier, break the elements and convert it into a process displayed below which shows integration between the internal and external factors that influence the company/brand, the promotional tools used, the message, objectives and its results (Duncan, 2002).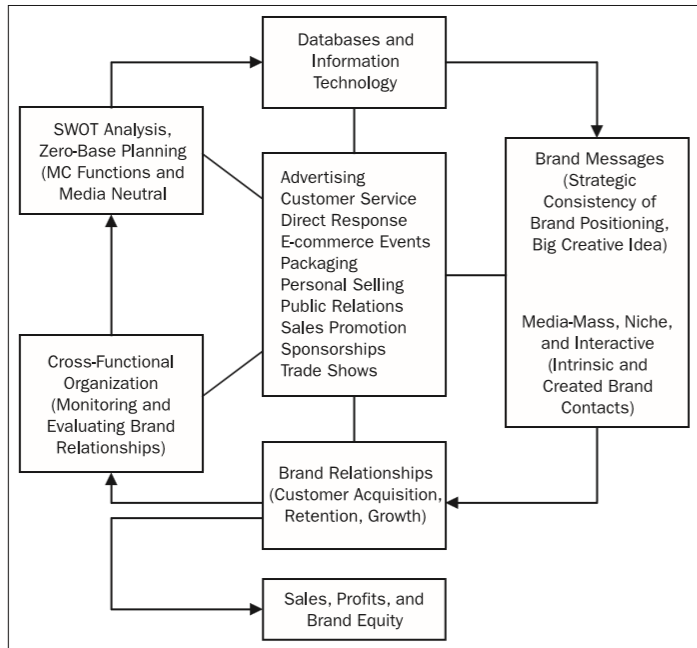 While Schultz (2010) introduces his latest 5 Step Planning Process in the below figure, that process incorporates (1) identification of customers or target market, (2) customer or prospect valuation, (3) creation and delivery of messages and incentives, (4) estimation of return on customer investment, and (5) budgeting, allocation and recycling. (Schultz, 2010).
In 2011, Rehman and Ibrahim (Shakeel-Ul-Rehman & Ibrahim, 2011) further elaborate the integrated marketing communication process which includes various steps commonly followed as:
The audience must be identified that is to be targeted.
Objectives of communication must be determined.
The message of the communication is to be designed.
Media channel Selection.
Budget Decision.
The marketing communication mix must be planned and decided.
Results must be measured.
IMC must be managed and coordinated.
Clow & Baack (2007) in their book "Integrated Advertising, Promotion, and Marketing Communications" brings a new foundation of the IMC Plan which includes a four stages process including its foundation, promotional tools, advertising tools, and integration tool with various elements involved in every stage as shown in the figure below. (Clow & Baack, 2007).
Elements of IMC:
A complete IMC plan incorporates every element of the marketing mix: products, prices, distribution methods, and promotions. (Shimp, 2008). While recently Kotler and Keller (2012) redefine elements of IMC as Integrated Marketing Communication has given a boost for promotional mix elements, irrespective of the fact that it is advertising; interactive/internet marketing, direct marketing, publicity/public relations or personal selling, sales promotion, just providing a combination of these disciplines to provide a clear and consistent maximum communication impact. (Kotler & Keller, 2012)
The main Four Elements of the IMC campaign:
Integrated Marketing Communications encompasses direct marketing, general advertising, Public relations, and sales promotion. Some IMC campaign provides feature aspects of all four elements, whereas others may ignore one or more elements for some strategic reasons. In an integrated campaign, general advertising provides the strengthening of brands and brand equity whereas direct marketing provides relationship building and dialogues. It provides sales close means. Short-term buying incentives are provided to both consumers and trade through sales promotion. Public relations – mainly publicity in this case – offers third-party endorsements and extra reinforcement for the paid advertising messages. All four elements have important and the same functions in an integrated campaign; none of the four is inferior or superior. The campaign should focus on a "big idea" and a graphic look through the following threads of all those four elements. This enhances the chances that message will be delivered to consumers and then have the message layered and reinforced in their memories without the "cognitive dissonance" that increases from incongruous graphic elements or mixed messages. (Jones, 2011).
Defining the elements we have:
Advertising:
Advertising is the intentional efforts of a company made to promote its product which is officially defined by Stanton ( 1994) as all nonpersonal, paid, and sponsor-identified activities involved in sending a message to the audience about a product or service by a company. (Stanton, Etzel, & Walker, 1994).
Sales promotions:
Kotler (2012) in his recent definition of sales promotion states sales promotion as an initiative taken by the company to promote the sales of its product/service, its usage, or trail. (Kotler P., 2012). Sales promotions play a role of a weapon again competitors by providing extra incentives to the customers to support purchase decisions. (Odunlami & Ogunsiji, 2011)
Direct marketing:
Direct Marketing Association defines direct marketing as an interactive process of communication that utilized one or more advertising tactics and media to affect any location, retail purchase, or achieving a sales target by reaching the customers directly. (DMA, 2012).
Internet and Social media:
Initially, social media was just considered as an interacting community and creating brand awareness tool for the marketers but with the growing usability of social media, many scholars have suggested incorporating social media as part of integrated marketing communication. (Spiller, Tuten, & Carpenter, 2011). Because social media is a medium that encourages the use of different promotional tactics while listening and taking reactions of customers before and after their purchase decisions (Kliatchko, 2009).
The AIDA model:
As the basic goal of every/any promotional campaign is to drive the target market to purchase the product. The AIDA model is (Ferell & Hartline, 2010) defined as the outline for promotional goals and stages involved in attaining the outcome which involves: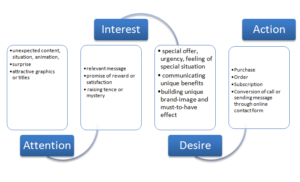 AIDA is an integrated approach to move from unawareness to awareness through a step-by-step approach and afterward, knowledge, liking, preferences, conviction, and on final stage towards to action (purchase) or a positive behavioral factor. Objectives of communication are accomplished in a series of mental stages as the audience or receiver travel from unawareness to factual data. The purpose of integrated marketing communication should be to enhance customer delivered value.
Integrated marketing communication has a vital role in the capacity and ability of any firm to change, innovate, and successfully deliver towards their customers through value-added offerings. (Shakeel-Ul-Rehman & Ibrahim, 2011).
BENEFITS OF IMC
Although integrated marketing communications requires a lot of efforts, it delivers many benefits including;
IMC can save money as it provides elimination of duplication in many areas like photography and graphics, as they are useable and can be shared in say, advertising, sales, and exhibition literature. Agency fees can be reduced by using a single agency for communications.
Consistent images and useful, relevant, messages help in developing long term relationships with customers
IMC also makes messages more credible and more reliable as it reduces the risk in mind or buyer.
Increase effectiveness through IMC increases profits as a unified message at most basic levels in IMC can have more impact as compared to a disjointed myriad of messages.
IMC builds a shell of communication around customers and supports them in moving through the various stages of the buying process.(Kitchen, Brignell, LI, & Spickett, 2004)
CHALLENGES OF IMC
The implementation requires redefining the scope of marketing communication, proper planning, application of information technology, and Strategic and financial integration.
Lack of management support, without top management support, it is not possible to plan or to be successful in any project. Some managers are still used to think that effectiveness suffers and marketing budget dilutes in the case when multiple tools are employed or even a failure occur regarding seeing that target audience can be reached via multiple media.
Accurate metrics are not available, so marketing expenditure is not presented as an asset and supportive tool for most companies. As a result, CEOs ignore it or deploy fewer budgets for this activity.
Future outlook of IMC:
From a future perspective, IMC seems to be an inevitable requirement for any organization, not a mere choice for agencies and clients in the business world. IMC, to be more specifically adds a more dynamic approach to business. The changing environment of markets and marketing is the driving force for integrated marketing communication implementation.
THE COMPANY SITUATION:
The Ford Motor Company, founded in 1903 by Henry Ford, is a multinational automaker of America with its headquartering in Dearborn, Michigan. Since its establishment, it has been making remarkable inventions by introducing new technology in cars. Today, Ford is considered the 2nd largest U.S.-based automaker and in 2010, based on its sales, it ranked as the 5th largest in the world. (Ford, 2012).  The company produces a wide range of cars including various types of luxury, automotive, commercial cars, and their accessories.
Although Ford has been known for its outstanding design, high quality, latest technology, and affordability which has helped the company to maintain a strong brand recognition globally and with billions of loyal customers around the world (Muller, 2010), yet since 2010, the company is facing severe losses because of its series of a product recall, a list of recalls along with their reasons is shown in the attachment 1. The company is still maintaining its market share as shown in attachment 2, but because of the product recall problem the company's brand equity and loyalty will sooner or later is expected to adversely affect the company's sales because of the decreasing reliability of the customers.
So, before the company faces its downfall, an IMC campaign needs to be carried out to retain its brand position and its customers. So, following the Integrated Marketing Communication process as discussed in the literature review, we formulate an Integrated Marketing Communication Campaign for Ford targeting the U.K. and U.S. clients. Attachment 3 shows 2012's market share of Ford in the U.K. and Attachment 4 shows its market share in the U.S., altogether making a vast market to cater to and influence.
OBJECTIVES:
The IMC campaign is formulated based on the following objectives:
To regain its customer's trust and reliability.
To earn higher profits and greater market share.
Ensuring its existing and new clients about its quality improvement.
To recall the past successes history to make emotional attached and influence them by using an emotional appeal strategy.
To reposition its "Ford Mondeo" and "Ford S-max" about its strong structure to cover its fuel leakage problem.
DESIGNING THE MESSAGE OF COMMUNICATION/BRAND POSITIONING:
For our message designing, we chose the generic message strategy in which we will be directly promoting the attribute of our product which is quality without making any claims. So our message is:
"Refreshing the trust maintained since 100 years by providing you the ever-lasting quality."
CREATIVE STRATEGY:
For our creative idea is to convince our audiences about the authenticity of our promotion and quality assurance positioning. For this, we will be using the reference of "care quality commission" showing that our new products are all checked and approved by the quality assurance department of the state. We will be delivering this message through an emotional appeal by connecting the history of ford and its relations with its customers over time. We will be showing visuals of the past ads and connectivity with audiences showing the trusty and reliable attitude of the customers and in the end, we will be displaying our consistency to quality.
SELECT YOUR MEDIA CHANNEL:
While selecting the media, companies often are bounded because f their financial limitations but Ford has extensive resources to finance its premium media selection campaign. So, we will be using both traditional and advanced media channels for our aggressive promotion. As traditional media is yet the most effective channel to reach the target audience for a car manufacturing company that has to reach a coverage of more than billions at a time (as shown in attachment), so, we will be putting high weight on traditional media, which will include both electronic (TV and Radio), Print (Newspapers and Magazines), sponsorship and direct marketing (telephone and mailing). Besides, internet marketing (social media and website), event management, and mobile marketing will also be used as media channels.
DECIDE THE BUDGET:
The budget is presented in the form of percentages as follows:
| | | |
| --- | --- | --- |
| Media type | Media channel | Percentage |
| Electronic | Television | 20% |
| Electronic | Radio | 5% |
| Print | Magazines | 6% |
| Print | Newspapers | 7% |
| Internet | Company's website | 3% |
| Internet | Web ads | 2% |
| Social Media | Facebook + twitter+other sites | 5% |
| Social Media | You tube | 2% |
| Outdoor media | Billboards | 30% |
| Direct marketing | Direct mails | 3% |
| Sponsor ship | Event sponsorship | 4% |
| Others | Event management, sales promotions, and BTL activities | 13% |
DECIDING THE MARKETING COMMUNICATION MIX AND AIDA:
Initially, we will be running a teaser campaign through our advertising campaign which includes all of our selected Medias. The teaser campaign will be asking an interactive question from the customers which is
"What is the thing that connects you with Ford over time?"
This teaser campaign will run for 10 days before the display of the actual ads. It will serve as the "attention" gaining step of the AIDA model. Following the model to generate interest the company will be offering a sales promotion campaign of offering free sample cars and test drives of the two models "Ford Mondeo" and "Ford S-max" to attract the people to join as the test drive on the event sponsored by the company.
The desire for the product will be created by displaying the actual ad with clips on television, billboards, websites, social media sites, print media, and all other mentioned channels.
Along with the launch of the advertising campaign, we will be offering a special discount for the first 1000 customers dragging the customers to take action of buying the product, hence achieving the objective of increasing the sales of the company.
MEASURING YOUR RESULTS:
We will be keenly analyzing the effectiveness of our campaign by taking direct face-to-face feedback from the customers on the event sponsored, additionally the likes on social media site and viewership on other web ads will be recorded to analyze which part is getting the more response and why.
CONCLUSION:
Many well-known companies over time face the problem of product recall and customer complaints, but IMC provides the opportunity for the companies to attract and interact with their customers with maximum reach potential and directly reaching the targeted audience. Hope this Integrated marketing campaign could bring greater results for the company to regain its customer's trust, maintaining the customer's loyalty, and increasing the sales of the company.
Bibliography
Barnes, B. E., & Schultz, D. E. (1999). Strategic Brand Communication Campaign. Lincolnwood: The McGraw-Hill Companies.
Cain, T. (2012, August 07). July 2012 UK Auto Sales By Brand. GOOD CAR BAD CAR.
Caywood, C. S. (1991). Integrated Marketing Communications: A Survey of National Goods Advertisers. Medill School of Journalism.
Clow, K. E., & Baack, D. (2007). Integrated Marketing Communications. In I. Pearson Education (Ed.), Integrated Advertising, Promotion, and Marketing Communications (3rd ed., pp. 2-27). Prentice-Hall.
Day, G. S. (2000). Managing market relationships. Academy of Marketing, 24-30.
DMA. (2012). What is the Definition of Consumer Direct Marketing? Retrieved from DMA.
Duncan, T. R. (2002). IMC: Using Advertising & Promotion to Build Brands. McGraw-Hill.
Ferell, O., & Hartline, M. D. (2010). Integrated Marketing Communications. In Marketing Strategy (pp. 291-299). Cengage.
Ford. (2012). Profitable Growth for All, Ford Annual report. Ford.
FordCorporate. (2012). sustainability 2011-12. Retrieved from Ford: http://corporate.ford.com/microsites/sustainability-report-2011-12/financial-data-market
J.P.Cornelissen, & Lock, A. (2000). Theoretical concept or management fashion? Examining the significance of IMC. Journal of Advertising Research, 7-15.
Jones, S. K. (2011). Creative Strategy in Integrated Marketing Communication. Ferris State University.
Kitchen, P. J., Brignell, J., LI, T., & Spickett, G. (2004). The emergence of IMC: A theoretical perspective. JOURNAL OF ADVERTISING RESEARCH, 19-28.
Kitchen, P., & Schultz, D. (2001). Raising the Corporate Umbrella, Palgrave: Basingstoke.
Kliatchko, J. (2009). IMC 20 Years After A Second Look at IMC Definitions. International Journal of Integrated Marketing Communications, 7-12.
Kotler, P. (2003). Principles of marketing. New York: Mc Graw Hill.
Kotler, P. (2012). principles of marketing. NY: Mac Graw Hill.
Kotler, P., & Keller, K. L. (2012). In M. management. New Jersey: Prentice-Hall: Pearson.
Lal, R., Quelch, J. A., & V. K.Rangan. (2005). Marketing management: Text and cases. New York: Mc-Graw Hill.
learning, M. (2009). What is IMC? MMC learning.
Muller, J. (2010, February 12). Ford Family's stake is smaller, But they are richer and still Firmly in control. Forbes.com.
Odunlami, I. B., & Ogunsiji, A. (2011). Effect of Sales Promotion as a Tool on Organizational Performance. Journal of Emerging Trends in Economics and Management Sciences, 9-13.
Percy, L. (2008). Overview of IMC. In Strategic Integrated Marketing Communication: The (pp. 3-27). Burlington: Elsevier Inc.
Schultz & Schultz. (2004). IMC: The next generation. New York: Mc Graw Hill.
Schultz, D. E. (2010). NEW, NEWER, NEWEST: Evolving Stages of IMC. Journal of integrated marketing communication, 14-21.
Shakeel-Ul-Rehman, & Ibrahim, D. M. (2011, October 4). INTEGRATED MARKETING COMMUNICATION AND PROMOTION. Researcher's World-Journal of Arts, Science & Commerce: International Refereed Research Journal, 2(1), 187-191.
Shimp, T. A. (2008). Advertising Promotion and Other Aspects of Integrated Marketing Communications. Canada: Cengage learning.
Spiller, L., Tuten, T., & Carpenter, M. (2011). Social Media and Its Role in Direct and Interactive IMC: Implications for Practitioners and Educators. International Journal of Integrated Marketing Communications, 74-85.
Stanton, W. J., Etzel, M. J., & Walker, B. J. (1994). Fundamentals of marketing. New York: Mc Graw hill.
Yeboah, D. A., & Atakora, A. (2013). Integrated Marketing Communication: How Can It Influence. European Journal of Business and Management, 5(2), 41-58.
Appendix:
Attachment 1:
Source: RecallUK.com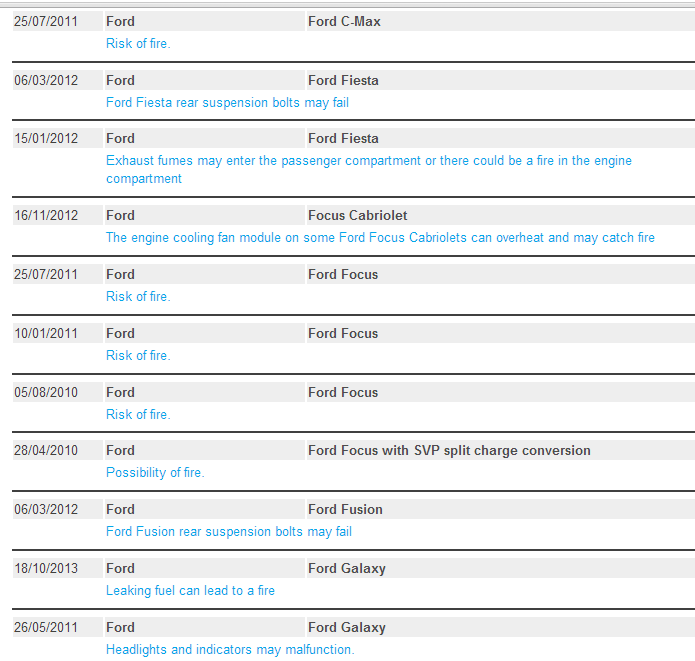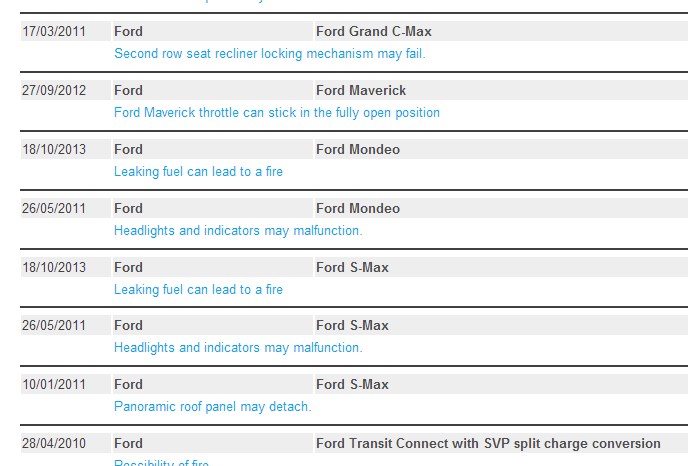 Attachment 2: sales in 2012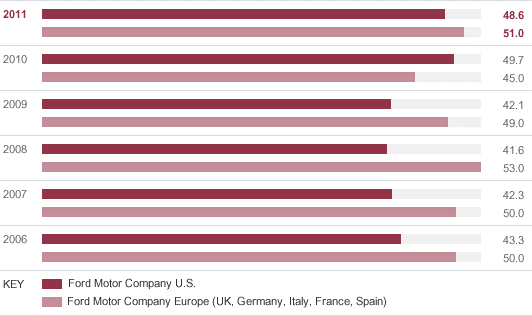 Source: (FordCorporate, 2012)
Attachment 3: Market share in the UK
Source: Good car bad car.net (Cain, 2012)
Attachment 4: Market share in the U.S.

Source: (FordCorporate, 2012)
Attachment 5: reach of media with depth