Executive Summary
 Over the past seven years, Imaginative and fresh way of doing business have contributed a great success to Apple.  It has developed a series of exceptional new range of smart phones, tablets and digital music player and PCs with imaginative design and style. In fact, its effective marketing strategy with innovative, sleek and enticing communication has also made its products popular among the customers. Therefore, it is important for us to critically analyze, the marketing mix of Apple, so as to get insights as well as figure out the challenges that Apple face and the aspects that need improvement.
Mainly the combination of its products such as iPhone, the smart iPod, iTunes, and iPad has contributed the success of Apple over the recent years. This product mix is of both great hardware pieces, with sleek design, great software performance, user friendly interface and with good e-business capabilities.
In this marketing report, the purpose is to critically analyze the marketing mix and the marketing strategy of Apple iPhone 4. This report has been organized in four parts. The first part presents the introduction of company and then situational analysis using SWOT. The second part discusses the current marketing mix of iPhone 4. Following this third part analyze competitive position of iPhone 4 and also discuss the challenges for it. In the end, some recommendations are proposed for marketing managers of Apple based on the findings.
. Introduction
Apple Inc. is the famous American multinational corporation that is a pioneer of consumer electronics. The headquarters of the company are located in Cupertino, California, US. It emerged as a computer manufacturer but later evolved its product range and added entertainment gadgets like iPod classic, iPod nano,  iPod touch, and then took it to a whole new level when it entered the market of high end mobile phones. It's CEO, Steve Jobs, announced the revolutionary mobile phone, the Apple iPhone-which was an internet enabled mobile phone device with an iPod, in 2007. Apple's sales are ever increasing so much so that for the financial year 2010 the worldwide sales reached $65.23 billion and profits made were $14.01 billion. The total equity of the business stands at $47.79 billion (Apple Inc, 2010). iPhone is the brightest of the products by Apple Inc. It is a revolutionary mobile phone that has made life so easy and entertaining. Everything is just one touch away and with the latest versions of iPhone, the iPhone 4-the mobile experience has been taken to a new level. Following is a discussion about iPhone's marketing mix.
The first thing in the marketing mix is the product itself. Apple has not just created but also evolved a marvelous product. Starting from the first generation iPhone in 2007, Apple kept on refining the product and added features that the customer wanted in it. In 2010, the ground breaking release of the latest iPhone 4 was made which was a huge leap from iPhone 3Gs. (Miller, 2010). The product wasn't only internally upgraded like the previous upgrades, it was also physically renewed. Unlike the curvy iPhones before, the iPhone 4 was designed with straight edges, both front and rear scratch proof glass surface and an extra brilliant screen with retina display (Digital Trends, 2010).
The iPhone 4 features state of the art high speed processor, the A4 which also used to come in the first generation iPad. It has a 5 mega pixel rear camera that records high definition video at 30 frames per second. Moreover, it has a front camera that can be used for its latest application, the Face Time which can be used to video chat with another iPhone on 3G or Wi-Fi. It comes in 16 and 32 GB storage capacities. This is the first iPhone to feature multi-tasking, hence Apple has overcome the competitive advantage of its rivals which was by far the weakest point of iPhones. That's just about the product. The next important thing is the price. Most probably the success of iPhone is on this key feature, that it is available at such a low price. The 16GB iPhone 4 is available for $199 only, where as the 32GB iPhone 4 for $299. But the catch is that these prices are only applicable to the US citizens who purchase the cellular phone with a contract. Buying an iPhone 4 without a contract is very expensive. It starts at $599 (Patterson, 2010). Apple Inc. gets the credit for the successful promotion of its products. The company uses product differentiating positioning strategy where the differentiating features of the iPhone 4 are highlighted in the advertisements. A very profound promotion campaign of the iPhone 4 was via the internet because people are more inclined to buy products after watching the in depth reviews available at websites like YouTube and Cnet, etc. The product is available at all the reputable major retailers. The orders can be placed online and the Apple outlets can also be directly approached. The marketing of iPhone 4 was so successful that over 1.5 million units were sold on the very first day (Ogg, 2010). Apple estimates to sell a total of over hundred million units by the end of 2011 (Chen, 2010). The major competitors of iPhone include: HTC, Blackberry, Motorola, Samsung and Nokia. Among these the toughest competitors are HTC, Motorola and Samsung because of Google's Android OS that they use. But overall, iPhone 4 seems to do fairly well in the competitive market.
Situation Analysis: SWOT
In order to analyze and evaluate the internal factors-strengths and weaknesses, and external factors- opportunities and threats in a business, a strategic planning method, SWOT analysis is used (Ansoff, 1965). These factors may present favorable and unfavorable conditions for Apple-the Mac, Smartphone and music player and tablet marker, to achieve its marketing objectives. Some expert are of the opinion that Apple still needs strategic vision and some marketing adjustments for improvement, while others like it just the way it has done over the past few years.
SWOT analysis
Strengths 
Attributes  helpful for Apple to achieve its  objective:

ü  High Revenue Growth: during the fist quarter of 2011, the company recorder revenue of $26. 74 billion representing 71 percent growth by selling 16.24 million iPhones, 19.45 million iPods and 7.33 million iPads during the quarter. (Apple Inc., 2011).

ü  Brand image: its brand has ones of the most established and healthy Smartphone, pc, music player and tablet in the world. Apple's customers are much loyal and enthusiastic with its brands.  This brand strong bran loyalty increases the acceptability level of new products of apple.

ü  Design and utility: The strength of Apple also lies in its simple, easy-to-use attractive and sleek designs of its Pc-Mac, Smartphon-Iphone-3G-4G, Music player-Ipod, Tablet-IPad. For instance, the iPhone has very few buttons and fits nicely in hands (Silverman, 2007).

ü  Marketing: the marketing strategy of the company has remained clever a by taking advantage of people' frustrations with other hadware and electronics.

ü  The visionary and Charismatic leadership of the company has been a greater strength.

Weaknesses
Attributes  harmful to achieve company objective

ü  iPhone' target market ignores corporate world, which most smartphone have targeted. Its brand image in corporate world is much lower.

ü  Apple' product's touch screen interfaces suffer from the problem of 'gorilla arm", which makes it uncomfortable for long-term use of a flat, solid surface for input.

ü  Apple has renowned for charging premium prices for it products, this strategy may suffer as low priced smart phone become available for most conscious customers.

ü  Product range: Apple' product range is limited to iphone, Mac, ipod and ipad and as the competitive rivalry increases, there would be huge pressures on it to diversify and launch new versions quickly to retain market share.

ü  Very proprietary and controlling: due to strong control over its operating system, it has relatively smaller market share especially in PCs, in addition, it has veto power over apps sold through ITunes.

ü  Steve Jobs: the company will have to suffer as he dies. He is the control freak and very demanding. Apple's repute got damaged with the spread of his bad health news in the media.

Opportunities
External conditions: favorable for achieving objectives.

ü  The more Mac sales are expected as Apple' loyal customer bas has been expanding since the launch of iPod, iPhone, and iPad.

ü  Apple has strong viable opportunity for diversifying into other computer and media products with its innovative technology.

ü  Ipod, iPhone and iPad have been viable stepping stons for Apple to enter new markets and attract new users who did not own Mac.

ü  Apple has strong capability for developing its iTunes and music player technology into mobile phone format.

ü  There is huge demand for iPhone in new emerging markets such as China and India through online presence (Mobilebond, 2010).

Threats
External conditions: damage to objectives

ü  There is constant threat that ideas would be copied by rival and new entrants with the advancement of technology.

ü  Many existing mobile companies such as Samsung, HTC, and Nokia have introduced smartphones  (Ionescu, 2010).

ü  Global economic slowdown presents challenge for high-priced Apple's products and consumers would ultimately switch to alternatives.

ü  High technological change and advancement may create new alternatives and substitutes for Apple's products. Physical music player may be replaced by wireless technology (BBCnew, 2011).
Marketing Mix
4.1

Product
The iPhone 4 features include high speed A4 processor, 5MP auto focus camera, 3.5" Retina display IPS, 16Gb/32Gb storage, iOS4, LED flash, VGA, 640X960 pixels, 4.8 ounce weight, 7 hours talk time and TBS battery. 5MP rear camera can record high definition videos at 40 frames per second. In addition, its front camera works with latest photo and video apps such as the Face time can be used to video chat. Due to its multi-tasking features and storage space takes competitive advantage over its rival HTC incredible, EVO 4G, Samsung-Galaxy S, Moto MileStone XT720 ( Ionescu,  2010).
The following features make it different in the smartphone market. see appendix for detailed comparison.
Innovation: This new version of iPhone allows a larger screen browsing and pop up of navigation icon set up.
Customization: Compared with last version such as 3G and 3GS, this 4th generation iPhone has applications for virtually any desire the customer might have. The customer are allowed and given the code to create apps that will allow them to execute, follow and stay in touch via third party software  (Ionescu, 2010).
Personalization: It also presents simple and effortless synchronization with the address book, calendar and email client through iTunes and Mac applications. Iphone 4 G is compatible with 225000 plus apps as compared to its major competitor Android that offers only 38000 plus apps  (Ionescu, 2010).
Connectivity: Customer will remain stay in touch through almost all know ways for mobile handhelds.
Music, Photos & Video Storage: Enhanced storage space will enable user to store and play music upto 16 Gb and 32Gb.

Price
iPhone has always charged premium prices for its innovative products. The new phone with extended features is being offered at $199/$299 with two year contract from AT &T with minimum data service starting at $15/month and Verizon in the US market. This offer seems attractive; however, buying an iPhone 4 without a contract is very expensive. It starts at $599 (Patterson, 2010).
Despite the changes to the hardware, the latest version of the iPhone is only marginally more expensive than last year's version such as represented  by the iPhone 4 costing approx. $181.55 (estimates done by Mobile magazine) as contrast with iPhone 3GS costing approx. $178.96.  As compared to rivals' smartphones, iPhone with contract price of $199/$299 with AT & T seems competitive as HTC-Incredible is being offered at $199, EVO 4G at $199, Samsung-Galaxy S at $600 (Seekingalpha, 2010).  See appendix for detail.
4.3

Place
Apple again followed its previous placement and distribution strategy that is to set exclusive mobile carrier in each country the iphone 4G launched. It has also chosen hybrid distribution channel involving online stores, physical outlets, and retail points of exclusive mobile service providers. Due to its hybrid channel and promotional campaign, more than 1.5 million units were sold on the very first day of its launch (Ogg, 2010).
Promotion
Apple has adopted product differentiating positioning strategy for highlighting the features of iPhone 4G in promotional campaigns throughout the world. Apart from TV commercials and other traditional media campaigns, its online promotional campaign through social networking sites such as FaceBook, MySpace and video sites such as Youtube, and its own site Apple.com and ITunes and in depth review sites like Cnet has attracted a huge audience, as people are more inclined to by electronic products after watching them and reading in depth reviews.
Challenges
Competition
It has been noted in present mobile battle field that, Android has attained 4th position in the smartphone race. Research in Motion is leading the pack, followed by the iPhone, then comes Windows Mobile and then Google Android (Dilger, 2010).  However, the sales volume of Android phone is huge and it is increasing days by day, as large number of models from various manufacturers running the OS.  iPhon 4 faces tough challenges from the hottest Android phone especially the HTC Incredible on Verizon and HTC Evo 4G on Sprint. In addition, some new versions of Samsung such as Galaxy S and the Motorola Milestone XT720 also present some competition in price as well as features (( Ionescu,  2010).
 Technology:
The rapidly changing technology makes today's hot mobiles and electronic gadgets obsolete in a year or so. Thus companies that don't innovate aggressively lose the hyper competitive niche of smartphones. Moreover, these aggressive and inevitable innovations sometimes lead even the most innovative companies into patent and copy write infringements (BBCnews, 2010).
Apple has recently filed suit against Samsung for allegedly copying the design of its iPad and iPhone. Very recently, Nokia sued Apple, whereas, Apple sued HTC Corp for alleging patent infringement over the iPhone (Richards, 2011).
Market & Economoy
In the year 2011, the global smartphone market is expected to grow by 58% according to research firm Gartner. It has also been forecast that tablet market is likely to quadruple to 70 million units in 2011 and the iPad will dominate over the next three years. However, its share would eventually decline with from 69% to 47% in 2015 with the arrival of Android devices.
Recommendations
After reviewing the existing marketing mix and marketing conditions for the iPhone 4, the following strategies could be recommended for winning the competitive advantage over its major rivals.
As hype was created before the launch of the new iPhon4, but its features and sleek design could not meet the consumers' higher expectations, hence, it is suggested that such hype should be avoided so as to satisfy the consumers. It is also suggested that Apple should try to resolve technical issues in its latest version of iPhone 4, as a lot consumers have complained about weak signal problems.
For improving its placement throughout the world, Apple can collaborate with various county-specific mobile services provider, as RIM has done for its Blacberry around the globe Dilger, 2010).
As the niche market of smartphone is increasingly becoming hyper-competitive with the arrival of Android and many others, Apple should see various product as well as market diversification strategies. This would reduce costs in marketing and increase the revenue through long-term partnership agreements (Porter, 1998).
Conclusion
Apple has dominated the smartphone market with its sleek-designed iPhones and other electronic gadgets over the last three years. Apple was able to do this as its product range continued to grow,  increasing size capabilities, increasing the number of applications available, and providing new features that are released through new iterations of the phone, continue to provide a greater value to the iPhone while the pricing remains relevant. However, now the situation has entirely changed and new entrants into the niche market of smartphone, have decreased the market share of iPhone and thus its revenue growth (Dilger, 2010). The smart phone market is still relatively small compared with general phone market. The market will rapidly increase in coming years due to lower prices and greater power.
References
Ansoff, I.,( 1965).  Corporate Strategy.New York: McGraw-Hill
Apple Inc. (2011). Quarterly Report.  Apple, Retrieved Apr 23, 2011, from  www.Apple.com
BBCnews.(2011). Apple sues Samsung for 'copying' iPhones and iPad.  BBCNews, Retrieved on April 20, 2011, from: http://www.bbc.co.uk/news/business-13124753
Chen, X. (2010, June 18). Analyst: iphone sales to surpass 100 million by 2011. Retrieved April 04, 2011, from http://www.wired.com/gadgetlab/2010/06/analyst-iphone-sales-to-surpass-100-million-by-2011/
Digital Trends Staff. (2010, August 10). iphone 4: everything you need to know. Retrieved April 04, 2011, from http://www.digitaltrends.com/mobile/apple-iphone-4/
Dilger, D.E. (2010). Android threats from Verizon iPhone, Windows Phone 7. RoughlyDrafted Magazine, Retrieved on April 20, 2011, from:
http://www.roughlydrafted.com/2010/10/12/android-threats-from-verizon-iphone-windows-phone-7/
Dalrymple, J. (2007, Sep, 11). Lessons learned from the iPhone price cuts. PCWorld, Retrieved Apr 20, 2011, from
http://www.pcworld.com/article/137046/lessons_learned_from_the_iphone_price_cuts.html
Miller, P. (2010, June 7). iphone 4 announced, launching june 24 for $199 with new facetime video chat. Retrieved April 04, 2011, from http://www.engadget.com/2010/06/07/iphone-4-announced/
 Ionescu, D. (2010, Jun 7).  Apple iPhone 4 vs. The Rest of the Smartphone Pack. PCworld, Retrieved April 04, 2011, from http://www.pcworld.com/article/198214/apple_iphone_4_vs_the_rest_of_the_smartphone_pack.html
Mobilebond. (2010). HTC – A Threat to Apple's iPhone in China. Mobilebond ,Retrieved  on April 23, 2011 from:
http://www.mobilebond.com/htc-%E2%80%93-a-threat-to-apple%E2%80%99s-iphone-in-china/
Ogg, E. (2010, June 25). First day iphone 4 sales estimate: 1.5 million. Retrieved April 04, 2011, from
http://news.cnet.com/8301-31021_3-20008852-260.html
Patterson, B. (2010, June 8). No-contract iphone 4 starts at $599. Retrieved April 04, 2011, from http://news.yahoo.com/s/ytech_gadg/20100608/tc_ytech_gadg/ytech_gadg_tc2464
Porter, M. E., (1998). The Competitive Advantage of Nations.  Free Press.
Richards, D. (2011).HTC a Big Threat to Apple in OZ. smarthouse, Retrieved on April, 21, 2011 from:
                http://www.smarthouse.com.au/Phones/Industry/G2J5M4V2
Silverman, D (2007, Jul, 10). Apple's silence helped the iPhone hype. Chron.com:Computing, Retrieved Apr 21, 2011, from
http://www.chron.com/disp/story.mpl/front/4954824.html
Seekingalpha. (2010, June 21). What's Behind Apple's iPhone Pricing Strategy? Seekingalpha, Retrieved Apr 23, 2011
http://seekingalpha.com/article/211063-what-s-behind-apple-s-iphone-pricing-strategy
Appendix:
| | |
| --- | --- |
| Version | Estimated Cost |
| iPhone 1 | $245.83 |
| iPhone 3G | $174.33 |
| iPhone 3GS | $178.96 |
| iPhone 4 | $181.55 |
| iPad | $246.45 |
| Source: mobile magazine | |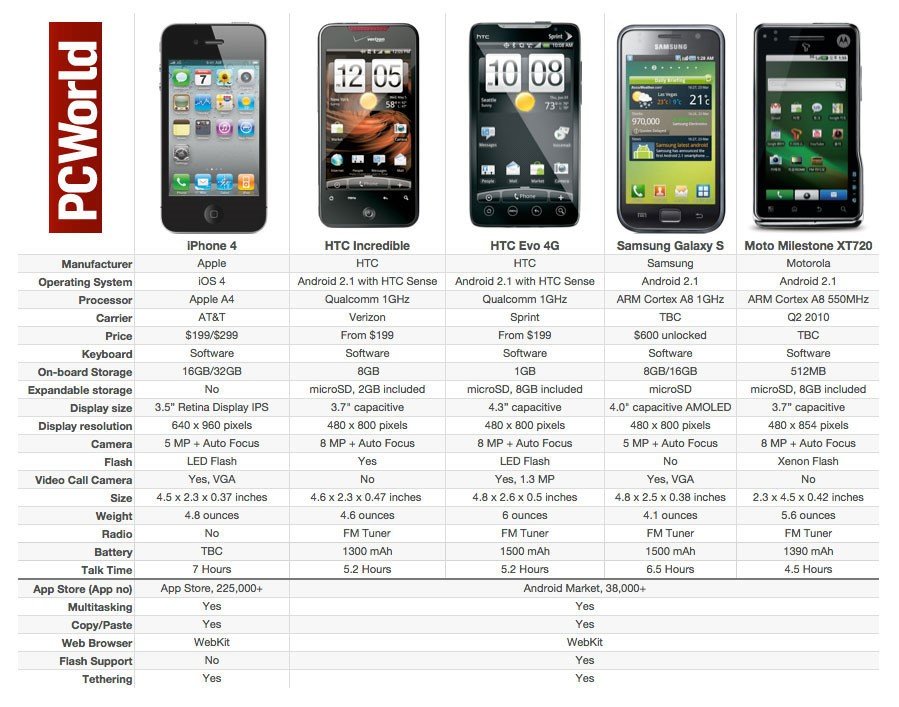 Source: PCworld