Executive Summary:
Any organization relies on its core capabilities to recognize and capture the emerging opportunities while avoiding the detected weaknesses that may translate it to a victim of environmental threats. Because of this, environmental analysis constitutes an essential aspect of corporate planning and the decision-making process.
This report presents the environmental analysis of the Flip Burger planning to enter Melbourne with a broader look at the fast-food industry of Melbourne, Australia. The analysis incorporates the external and internal forces that are directly or indirectly affecting the industry and are likely to be faced by the company. These include Macro environmental factors, industry trends, competitors, and the targeted customers.
1.     Analysis of the Marketing Environment
Today, Businesses are greatly influenced by their environment. All the situational factors which determine day-to-day circumstances impact firms. So, businesses must constantly analyze the trade environment and the market. Today market is facing changes every day. Many new things develop over time and the whole scenario can alter within few seconds. Some factors are beyond one's control. But, if monitored carefully the impact could be minimized with the help of environmental analysis. Environmental analysis is a process to identify all the external and internal elements that affect the organization's performance. The analysis involves assessing the level of threat or opportunity the factors might present. These evaluations are later translated into the decision-making process. The analysis helps align strategies with the firm's environment. (Gilligan & Wilson, 2009)
The following section of the report presents the situational analysis of Melbourne's fast food industry to analyze whether the market offers the entry opportunity for Flip Burgers or present strong barriers to entry.
1.1. Situational Analysis:
Situation analysis refers to a collection of methods that managers use to analyze an organization's internal and external environment to understand the organization's capabilities, customers, and business environment. The situation analysis consists of several methods of analysis: The 5Cs Analysis, SWOT Analysis, etc. For this report, the 5Cs analysis method has been adopted that comprise of:
The 5Cs are the five key areas that are involved in making a marketing decision. These are a company, competitors, customers, collaborations, and context. Hence, to carry out the situational analysis of Flip Burger entry in Melbourne, Australia, the 5Cs Analysis of Flip Burger is presented in the following section.
1.1.1.   Company
FLIP burger boutique is an upscale full-service American restaurant based in Atlanta, Georgia. The restaurant was founded by the "Top Chef All-Stars" winner Richard Blais which proves to be one of the greatest strengths of the company. The company opened its first restaurant in West Midtown, Atlanta in 2008, and has since opened three additional locations, one in the Buckhead area of Atlanta, one in Birmingham, Alabama, and one in Nashville, Tennessee. FLIP burger boutique has been credited for initiating and increasing competition in the restaurant scene in Atlanta, particularly among restaurants specializing in hamburgers. The menu includes eighteen different hamburger variations. Side orders include vodka-battered onion rings, French fries, fried pickles, sweet potato tater tots, potato salad, pan-roasted Brussels sprouts, and that boil. Several specialty milkshakes, such as the Krispy Kreme milkshake in which doughnuts comprise half the drink, are also offered. Liquid nitrogen is used to prepare the milkshakes (Jennings, 2016)
The context includes the PEST Analysis. PEST Analysis is a framework used to analyze the external macro-environment of an organization and stands for Political, Economic Socio-cultural, and Technological analysis. Analyzing these environmental factors helps the company to determine the market trends and the risks involved before launching a new product or expanding its operations in a new market so that the company could formulate its strategies accordingly. (Parnell, 2013)
As Flip Burger is a part of the Fast Food industry and is planning to open an outlet in Melbourne, Australia, therefore the Pest Analysis of Melbourne, Australia will be carried out while focusing on the Fast Food industry of the region.
The political factor helps the company to analyze the rules, regulations, and legislation connected with the country in which the company plans to offer its products. This includes issues like tax guidelines, political stability, safety regulations, trade regulations, and employment laws. (Gupta, 2013).
The government of Australia demonstrates its awareness of the competitive landscape characterizing the fast food industry as an essential sub-sector of the consumer industry. Particularly, the stability of the political climate in Australia contributes the significant growth in the industry over the last two decades, with an expected representation of 32% in the total value of the consumer foodservice by 2017. The positive projection owes to the stability of the Australian political climate in the democratic federal nation comprising six states and two territories.
Besides, The Australian government has vested authority to enact price control laws, though has distanced itself from national price regulations. The federal government facilitates foreign direct investments that illuminate the community interests. All investment policies are guided by the Foreign Acquisitions and Takeovers Act (FATA) and the Foreign Acquisitions and Takeovers Regulations of 1975 and 1989 respectively.
Furthermore, the federal tax incentives target the investment translates to substantial net economic gain for the country. Here, it imposes a flat corporate rate of 30% on net earnings besides the goods and services tax (GST), tax offsets for research and development activities, concessional rentals, and issues tax holidays. Finally, the government has the authority to formulate exchange controls as advised by the treasury and the Reserve Bank of Australia to protect its currency.
Hence, the political situation of Australia is quite favorable for a fast-food company to enter the market
Under this factor, Companies check up the economic concerns that are vital to have an impact on the company's operations. This would include factors such as economic growth, the unemployment rate, interest rates, the business cycle, inflation, and policies pursued in the country/region (Peng & Nunes, 2007).
With a workforce of over two million people, Melbourne is Australia's second-largest labor market and its economy is becoming increasingly globalized and complex. In 2015 Gross Local Product (GLP) of Melbourne was $90.6 billion as shown in the graph below (Martin, 2016) (Gross Local Product (GLP) is a measure of the size of a City's economy):
At a broader level, the City of Melbourne makes a major contribution to the Victorian and Australian economies. It accounts for 27% of Victoria's Gross State Product and 6% of Australian Gross Domestic Product. (planmelbourne.vic.gov.au, 2016)

Restaurants, cafes, and hospitality providers are an important part of Melbourne's economic and social fabric.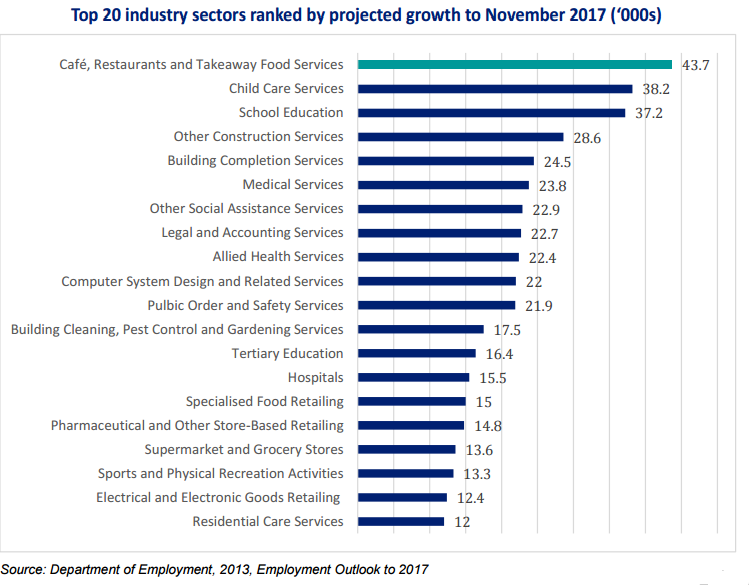 Among the labor market, the food services industry presently has 450,336 jobs and is ranked as the third most money-generating industry as shown in the graph below:

Estimates suggest the number of employing businesses will increase by around 30 percent by 2020. Planning for future economic growth will need to ensure there is sufficient land to support the operations of existing and new businesses. The Economist Intelligence Unit ranks Melbourne as the fourth most expensive city in the world to live in according to its worldwide cost of living index in 2013.
This factor deals with the socio-cultural environment of a country and includes lifestyle attitude, cultural limitations, education, and customer demographics (Gupta, 2013).
Australia presents an organized social movement officially aligned to ethnic and racial inclusiveness. Much of its history reveals a commitment to assimilate various cultural groups within the British-Australian traditions. This leaves the country home to diverse peoples in a relatively collective society that depicts a cosmopolitan population. Although environmental variation and immigrant cultures primarily influence the lifestyle differences, traditional cultures amongst the indigenous remain expressed in public life. For instance, multilingualism exists despite the dominance of the English language shared by the majority of the population gelled to the British-Australian values.  (R&CA, 2015)
The strong revenue reported despite the incidence of economic repression exhibits the consumption perspective that fast food remains an affordable luxury. Nevertheless, a counter-acting trend arises as Australian consumers seek value for premium spending in healthier fast food alternatives. It creates the need for a strategic focus to offer evolving and adaptable selection to satisfy their quest for safe menus (Langley, 2011).
The increasing population diversity presents the opportunity for Flip Burger to innovate its products to attract consumers of various backgrounds. Higher health consciousness threatens demand for Flip Burger's products, which are sometimes criticized as unhealthful. However, the company has the opportunity to improve the healthfulness of its products.
Prime locations for fast-food operators are becoming difficult to find as the industry moves towards saturation. High competition for locations has pushed rental costs upwards over the past five years, making it difficult for new entrants to locate themselves close to customers.
How technology can either positively or negatively impact the introduction of a product or service into a marketplace is assessed here. These factors include technological advancements, the lifecycle of technologies, the role of the Internet, and the spending on technology research by the government. (Gupta, 2013)
Technology sits at the core of transforming the service delivery to consumers with convenience, cost reduction and competitive pricing cited as the primary drivers for the mass adoption of online shopping. Alike other business segments, the preference for online shopping has caught up with the introduction of fast food applications for users of mobile devices. For example, the acceptance of iFast Finder amongst users of iPhone and iPads has spurred rising sales growth amongst the Australian high-income earners. This technological trend will spark competitive innovation that will rapidly revolutionize the fast-food industry with increased convenience in placing orders and generating price comparatives for alternative foods.
Capital intensity and the rate of technological change in the industry are low, which is an incentive for new players to enter. Ongoing investment in equipment is minimal for the industry compared with the daily labor input and associated wage costs. (IBISWorld, 2016)
There's a huge amount of competition in the local market of Melbourne, without even looking at overseas players coming in. The burger scene has become so competitive due to the nature of burgers themselves; they have something that everyone knows and enjoys. (Jones, 2016).
the market is dominated by McDonald's and Hungry Jacks but the addition of premium products with grilled chicken burgers and chains such as Grill'd is widening the offerings and product line and is opening doors for more competitors (Business, 2014 ).
One of the major direct competitors for Flip Burger in Melbourne is the market leader of the region that is Fat Bob's Bar & Grill.
Fat Bob's Bar & Grill is located amid the industrial backblocks of Moorabbin. Fat Bob's large warehouse space has been painstakingly decorated with vintage signs, reclaimed furniture, and collectibles. Fat Bob's Bar & Grill has won the Burger Cafe in Metropolitan Victoria category in the Victoria & Tasmania Savour Australia Restaurant & Catering HOSTPLUS Awards for Excellence 2015. The restaurant offers an exotic range of burgers that are juicy and tempting that attracts customers to even the industrial region.
Besides, there are several burger spots, restaurants, and cafés like Easey's, Mr. Scruff's, Royal Stacks, The Merrywell, South Melbourne Trader, Nshry, Royale Brothers, Local Burger Co, and Brother Burger. Hence, the burger segment of the fast-food industry of Melbourne is already saturated with many giants and small players competing in their respective regions and with core competencies.
CUSTOMERS
The demographic environment is a fundamental force for marketers to understand and monitor, particularly in the food industry. Demographic attributes are key factors in shaping tastes, choices, opinions, and food knowledge. The key demographic attributes that marketers monitor include (Kotler, Keller & Burton, 2009)
| | | |
| --- | --- | --- |
| MARKET SEGMENTS | VARIABLES | CONCENTRATION |
| | | |
| Demographic | Age | 5 years onward |
| | | |
| | Gender | Male, Female |
| | Income | All income groups |
| | | |
| | Occupation | Citizens, workers, tourists, and |
| | | other |
| | Religion | Irrespective of religion |
| | | |
| | Nationality | All |
| | | |
| | Race | Irrespective of race |
| | | |
| | Education | All level |
| | | |
| Geographic | World region | Australia |
| | | |
| | Country | Victoria |
| | | |
| | Cities | Melbourne |
| | | |
| | Density | High |
| | | |
| | Climate | All climate |
| | | |
| Psychographic | Social class | All class of people |
| | | |
| | Lifestyles | Urban, rural, and even far |
| | | Villages |
| | | |
| Behavioral | Benefits | Quality |
| | | |
| | Loyalty status | Strong |
| | | |
TARGET MARKET
We have broadly segmented our market into demographic, Social, and psychographic segments. Under demographic, we have chosen the segment of occupation and income. Under psychographic, social class, and lifestyle, segments were chosen.
Melbourne is a major and relatively young city with a growing population of 4.5 million people.
Melbourne is projected to overtake Sydney as Australia's biggest city by 2030, although due to high international and interstate migration, birth rates, and life expectancy, this may occur as early as 2030. The number of people living in Melbourne increased by over 400,000 in the five years to June 2013, the largest increase of any Australian city. Our ideal customers are the persons who have the occupation related to traveling and tourism.
Melbourne is currently home to over 1.7 million households, estimated to grow to over 2.4 million households by 2036. Melbourne has a relatively young population for a major city within a developed country. The latest census in 2011 revealed Melbourne's population had a median age of 36, with 37 percent of the population aged between 25-49 years.
Melbourne has a culturally diverse population, where 58 percent of the population has either both or one parent born overseas. Approximately one-third of all households speak two or more languages, with the top languages (outside of English) being Greek, Italian, Mandarin, Vietnamese and Cantonese. Melbourne is comprised of family households (72%), single-person households (23%), and group households (5%). The average number of people per household is 2.6, the average number of children per family is 1.8, and the average number of persons per bedroom is 1.1. 61 percent of the population is of working age that is between 20 years and 64 years and forty percent of those employed hold a managerial or professional position. Other significant roles include clerical and administrative workers (15.3% of the workforce) and technicians and trades workers (13.4% of the workforce). Fifteen percent of the labor force work in their own or the family business. (ABS, 2016)
Melbourne has a good-sized workforce that is accessible and skilled. Melbourne is a well-educated and multicultural society, living in single-family households in houses. 35% of the current labor force is degree qualified or higher and 72% has a post-school qualification.
Melbourne is an affluent society where a two-income family with children has a median weekly income of A$2,346. Thirty-two percent of one-person households have a weekly income of between A$300 – A$599 while 30 percent earn over A$1,000 per week. Melbourne has relatively high levels of homeownership. Approximately 70% of households own their dwelling (with or without a mortgage) while 27 percent of households rent.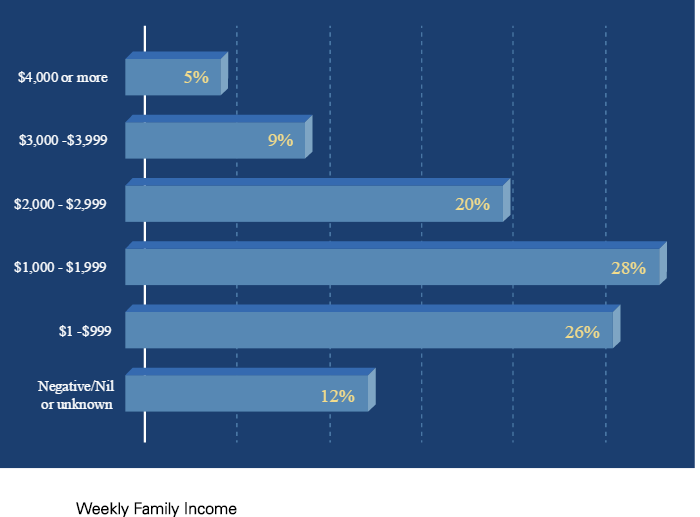 Consumer behavior
Consumer rights, health, and technology are among key consumer trends for Australia
Consumer health awareness has transformed the Fast Food Services industry over the past five years. Industry demand has been affected by increased consumer awareness about the nutritional content of fast food and a conscious effort by consumers to choose healthier options. Industry operators have responded by introducing a range of healthier, premium choices with less fat, sugar, and salt. This change in consumer preferences has also led to an influx of new operators offering higher quality fast-food options.
Younger consumers are retaining the taste for the pizza, burger, pies, and fries menu, while older customers are seeking food with a perceived higher nutritional profile; the median age of the population is about 37.7 this year, rising to 38.2 by 2018.
Social media is predicted to be a major driver of customers to these mobile operators. Tech-savvy younger consumers are the core demographic for the fast-food sector, and the development of online and app-based ordering systems by franchise brands such as Domino's and Pizza Hut has made it easier and more convenient to order.
While the burger has a strong share of industry revenue there has been a five-year decline, and this is expected to continue
Bibliography
ABS. (2016). Australian Demographics Statistics Catalogue. ABS.
Business, F. (2014, September 22). Fast food gets a health kick [market report]. Franchise Business.
Gilligan, C., & Wilson, R. M. (2009). Strategic Marketing Planning. Pearson.
Gupta, A. (2013). Environment & PEST Analysis: An Approach to External. International Journal of Modern Social Sciences, 2(1), 34-43.
IBISWorld. (2016). Fast Food Services Market Research Report. Australia: IBISWorld.
Jennings, J. ( 2016, January 17). Trailblazing dining venues: How a burger joint helped Moorabbin. Domain.
Jones, K. (2016, MARCH 7). Battle of the burgers. The Sydney Morning Herald.
Martin, P. (2016, FEBRUARY 14). SGS Economics: Melbourne booms while regional Victoria sinks. The age. Retrieved from http://www.theage.com.au/victoria/sgs-economics-melbourne-booms-while-regional-victoria-sinks-20160213-gmtj4k.html
Parnell, J. A. (2013). Strategic Management: Theory and Practice. Sage Publications Inc.
Peng, G. C., & Nunes, M. B. (2007). Using PEST Analysis as a Tool for Refining and Focusing. 6th European Conference on Research Methodology for Business and Management Studies, 229-237.
planmelbourne.vic.gov.au. (2016). metropolitan Planning Strategy: A vision for Victoria. Melbourne: Plan Melbourne.vic.gove.au.
R&CA. (2015). Re: think Response to the tax discussion paper. Australia: Restaurant & Catering Australia (R&CA).