Student life is full of frustrations. You have to focus on your academics, plan your career, and explore the world. Everything demands a lot of time, best effort and ample money.
When you go to university, you have great pressure to submit assignments, coursework, projects, presentations, and exams. You are required to work hard to secure good grades as it will help continue your scholarship, waive off a course fee, and support your successful career.
Certainly, higher education is not easy. You will have to occasionally deal with projects and exams, but assignments are given on regular basis. Every assignment help build your final grade and CGPA. So, it is highly recommended that you do your best to score high and boost your overall academic performance.
In these modern times, teaching approaches have changed and become more innovative. Now, the assignments require comprehensive research, critical thinking, problem-solving and analytical skills. The educational institutes aim to develop students into all-rounded, resourceful and global citizens who can challenge life to achieve the best.
The key to a bright future is good education. For that, a good academic score is a must. How can you achieve that? Your parents would want you to regularly attend classes so that you don't miss any lectures. While your professors want you to retain all the teachings so that you can perform well in projects and exams. Writing assignments is the best way to make students master concepts and theories. So, here is a complete guide on how you can score high on your assignments.
How to Attempt an Assignment?
A majority of the students tend to forget the concepts and theories taught in the lecture which may affect their assignment grades. So, the best way is to take lecture notes and learn the tactics of attempting an assignment.
Here are some basic steps that will guide you on how to attempt assignments:
Step 1: Understand the Assignment Instructions
Before you attempt your assignment, it is very important to read the instructions. Then, you must proceed to the question or task. Read the question at least three times, and understand what they want from you. Then, revise your classroom lecture notes, and consult the book to further develop your concepts.
For instance, if it's numerical, you must know all the steps to attempt it. Even if the answer is not correct, you may get points for your attempt. Next, if it's an essay or academic task, you first need to know how to write it, and then you must focus on the specifics of the question.
After this, your good research skills can be a game changer. You should know how to find pertinent sources and extract worthy information. Some useful info sources include science direct, google scholar etc. Once you find info, you should analyse its relevance to the assignment question, and critically think about how to illustrate it.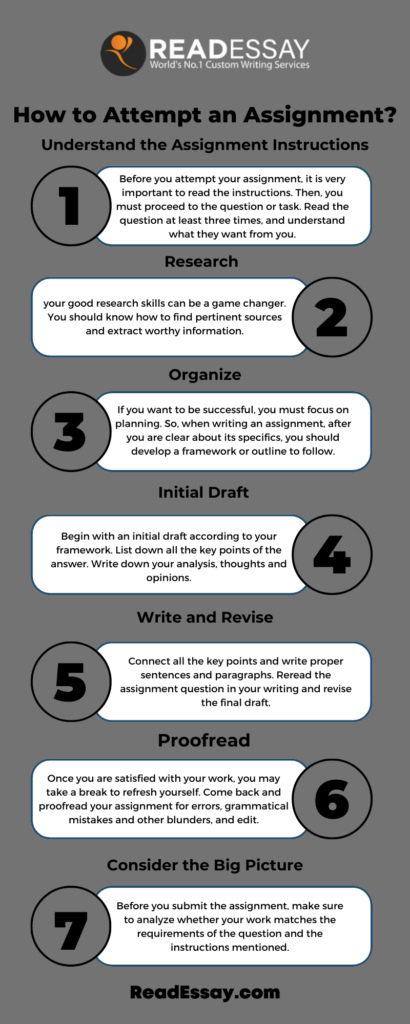 If you want to be successful, you must focus on planning. So, when writing an assignment, after you are clear about its specifics, you should develop a framework or outline to follow. It will help you efficiently attempt the task and score high.
Now, it's time to start your assignment. Begin with an initial draft according to your framework. List down all the key points of the answer. Write down your analysis, thoughts and opinions. Remember it's the initial draft, so you can write freely. Also, the introduction and conclusion have great importance, so you should try your best to make them stand out. Don't spend excessive time, as this is the first draft and doesn't need to be perfect.
Now, it's time to write the final draft of the assignment. Connect all the key points and write proper sentences and paragraphs. Reread the assignment question in your writing and revise the final draft.
Once you are satisfied with your work, you may take a break to refresh yourself. Come back and proofread your assignment for errors, grammatical mistakes and other blunders, and edit.
Step 7: Consider the Big Picture
Before you submit the assignment, make sure to analyse whether your work matches the requirements of the question and the instructions mentioned. Other aspects to look at are the flow of your writing and whether the assignment structure is appropriate and the content sensibly organized.
Remember, your presentation matters a lot, so focus on the title page, page numbering, intro, conclusion and referencing list. Make sure everything is perfect.
If you still need assistance, you may contact online business management assignment help.
10 EASY AND SIMPLE WRITING TIPS TO GET HIGH SCORES IN ASSIGNMENTS
Now, that you know the simple approach to writing a perfect assignment, here are 10 easy and simple writing tips that can help you score high in your assignments.
Focus on Assignment Structure
Whenever you are given an assignment, you must understand and plan on how to attempt it. Sometimes, you might be overloaded with multiple tasks, so make sure you concentrate on your planning and allocate sufficient time and effort to each. A great approach to good planning is to maintain a calendar, mark deadlines and set your targets.
A majority of university students are frequently assigned academic papers, and such tasks require meticulous planning and effort for detailed research, sections, structuring, and referencing. This is the only way you will be able to perform better.
Choose Credible and Reliable Information Sources
Excellent research is vital to performing well in assignments. Many students seem confused as to where to begin the assignment from. So, the tip is that you should start from the basics of the assignment. Carry out detailed research about the question or topic, and extract relevant info chunks.
You may come across a lot of info sources, but remember that your professor will appreciate it if you choose credible and reliable info sources. If you examine your assignment rubric, you will have an idea of the importance of citation and referencing, and how your work is graded.
If you have a detailed academic paper or assignment, you might be unaware of the importance of the table of content. It is always a good idea to include a table of content and sub contents for detailed assignments it helps the reader to know what is included in the paper. Apart from this, it serves as a map of the content included in the assignment. It will leave a good impression on your instructor and earn you a good grade.
After you understand and plan the assignment, a small break can help you process the info in your mind and write better. It improves your concentration level so you will have fewer chances of error. Moreover, you will be able to analyse your work and ensure that it matches your professor's expectations.
Focus on Introduction, Body and Conclusion
When you start writing an assignment make sure that the intro is one of the most important parts of the paper. It reflects the quality of the assignment and hooks the reader. So, a sensible student would always focus on writing an impressive intro reflecting the credibility and worth of your work. This way, you will surely earn good marks.
The body encompasses the main content of the assignment. Including relevant and reliable content from credible sources will make your work outstanding. While you focus on the content, you should pay equal attention to the structuring. Including headings and subheadings will make lengthy content easy to comprehend. A nice presentation of the content will surely help you secure a good grade.  
A good conclusion includes a summary of your paper along with the opinions and future aspects. Your professor would be very much interested in reading the conclusion. And if you review your assignment rubrics, you will know that it has special marks. So, if you want to score high, try to write a brief but impressive conclusion.
When doing academic work, you must know that it is very important to cite the info sources from which you include the content. Otherwise using someone else's content is unacceptable and leads you to negative marking.
Every educational institution has distinct requirements for referencing. So, you must be well-aware of the referencing style like APA, MLA or Harvard, and follow the guidelines. Try to include max info sources but don't forget to cite them accurately.
If you find referencing very difficult, you may approach your institution's library or academic support unit which might offer you workshops or online resources where you can learn referencing. Besides, you may also contact Business Assignment Help in UK.
Moreover, you may use free online referencing sites and cite your info sources without any hassle. It will surely save you time and effort. However, you still have an understanding of the basic referencing or you may end up making mistakes.
Students must know that copying someone else's work is an offence, and institutions have the right to fail the candidate. So, why take the risk? They want to see your understanding and efforts.
It is best to create original plagiarism-free content to score good marks. Never think of copying. Even if you paraphrase the content or write it in your own words, you are required to include the source. Otherwise, your professor will not give you generous marks.
Include Facts and Examples
A useful tip for adding more credibility to your assignments is to include ample examples and facts. Also, don't make things difficult for the reader. Always include facts and examples that support your hypothesis, thesis and arguments. Including contradictory things can confuse the reader, create a negative impression and reduce your chances of scoring a high grade.
Focus on Choosing the Right Words, Grammar, Punctuation, Spelling and Readability
How would you feel if anyone presents you with a delectable dinner on filthy plates? Despite being tasteful, you would not feel like eating it. Why is that so? A mess can influence a person's moods and decisions.
Things are much similar when your professor reviews and grades your assignments. If you have written improper sentences, long or no paragraphs, used inappropriate language or words, and have endless spelling and grammar mistakes, your professor will not feel like checking your assignment. Even if he did, he would not want to give you a good grade even if you have included info from credible sources.
Remember that university is more likely to accept formal and technical language rather than casual and informal writing styles. So, you should avoid using any informal or slang words. Else, long paras without headings and subheadings can make the reader anxious.
Another great tip to follow when attempting an assignment is to write coherent and relevant content. It will make it easy for your professor to read, he will quickly understand your opinion and be able to evaluate better. This will elevate your chances of securing a good grade.
When paraphrasing content, you should try to use appropriate synonyms and make sure that you don't lose the actual meaning of the content. Use medium-sized sentences that are neither too long nor too short.
Make sure you follow the word limit. A major fluctuation in the required word count can make you lose marks. Revise and edit your work many times for grammatical errors, spelling and punctuation mistakes. Using tables, charts, bullets and numbering (when required) is also a good idea to beautifully present your content.
Every coursework involves assignments, and if you follow these guidelines you can surely improve your academic results. Remember, little effort with the right approach can save your time and boost your performance. You will be better able to identify your weak areas and focus on them to enhance your academic progress. Your professors will start trusting you, and your career will flourish.