Did you know that a career in accounting has great potential? The reason is that the accounting stance for jobs is thriving and paving a successful future for candidates.
Due to the growing demand for accountants, people are eagerly opting for accounting degrees and striving to achieve senior position job roles and earn a good living. Facts show that accounting students are easily hired even before they graduate.
So, if you are motivated to pursue a career in accounting, it is important to know the types of accounting, career opportunities and the job market.
How Many Types of Accounting?
If you are interested in exploring the accounting arena, you must know that it is a vast field with twelve branches. Each type of accounting is a result of technical, economical and industrial progressions, and has its specific use.
However, to be a successful accountant, you must gain expertise in a particular branch. Before taking a decision, you must know the different types of accounting.
Financial accounting is related to listing and classifying business transactions. If you are a financial accountant, you will be required to generate financial statements whose sources will be the transactions. Some examples of financial statements include profits and loss statements, balance sheets, cash flow statements and much more. However, financial accounting is required to conform to external protocols.
Cost accounting is a sub-field of managerial accounting. It is largely used in the industrial sector which requires expertise to manage ample resources and diverse costs. So, cost accounting is best to manage internal company operations.
Moreover, a cost accountant will be required to record and evaluate manufacturing costs. It helps manage the company's fixed and variable costs. Then, it sees how it impacts a business and uses accounting tools to efficiently manage costs.
Auditing is a type of accounting; however, auditing is further divided into two types: external and internal auditing. When we talk about external auditing, it is when a sovereign third party analyses a company's financial transactions. It ensures that these are rightly presented and duly comply with GAAP. While internal auditing is to evaluate how a venture allocates accounting responsibilities, and the procedures and policies in effect.
Internal auditing is of great importance as it helps businesses manage scams, maladministration and surplus. It also detects and regulates any possible flaws in its strategies and procedures.
Management accounting or managerial accounting is a type that sources data related to a company's operations to its directors. The data sourced by managerial accounting help directors and managers take business decisions related to operations. 
It may include planning, projecting, cost analysis, financial appraisal, and studying past business decisions.
Accounting Information Systems (AIS)
Accounting Information System is mainly linked to accounting systems, procedures and techniques. It embraces structuring, repayment, implementation and reflection. Accounting software and bookkeeping are some examples of AIS.
Tax accounting is associated with preparing for tax time and organizing tax returns. Hence, it pushes a venture to comply with IRS regulations. On the contrary, it also supports business setups to calculate their taxes and adopt a way to lawfully cut down their owed tax amounts. Besides, it also examines organizational decisions and other issues related to tax.
Forensic accounting, a branch of accounting that emphasizes legal affairs is gaining popularity day by day. A few examples may include theft inquiry, lawful cases, and claims determination. So, if you plan to become a forensic accountant, you will be required to rearrange financial data for partial records. It could be deciphering fake data or changing a cash accounting structure to the accrual accounting system. Hence, forensic accountants are mainly consultants who desire to work project by project.
This branch of accounting revolves around property management for another individual or venture. Hence, if you desire to become a fiduciary accountant, you will be asked to oversee accounts and related actions. It is particularly linked to property ownership and organization. If you opt for fiduciary accounting as your line of expertise, you need to have an understanding of estate accounting, trust accounting and receivership.
Public accounting or government accounting is designed to manage any state or centralised (federal) fund sharing and distribution. It may vary from social accounting and the degree of cost to people, environmental change or the utilization of welfare reserves. It trails the flow of funds via several agencies and ensures that everything remains within the budget. So, if you plan to study public accounting, you have a chance to be hired by state or federal sectors for projects like construction, education or healthcare.
As the global market expands, the demand for international accounting rise. It is an accounting category that embraces learnings about the rules and protocols of other nations. The purpose is to ensure fair and genuine passing of info.  
Non-profit organizations mainly use fund accounting. So, if you want to become a fund accountant, you have a scope in not-for-profit organizations where you will be required to ensure that funds are rightly managed. However, you will have to abide by the company policy and follow the organizational laws (specific to NPOs). Some organizations pertinent for fund accountants encompass churches, educational institutes, medical centres, government agencies and clubs.
Political Campaign Accounting
It is a category of accounting that involves the formation and application of the financial system within a political campaign. It may encompass accounting transactions or overseeing donations to ensure compliance with state and federal laws.
If you have an academic task related to types of accounting, you can refer to Accounting Assignment Help.
Best Finance and Accounting Careers
If you are an ambitious student who loves accounting and wants to pursue a career in the same field, you have great news as you will have ample high-paying local and international job opportunities to explore.
Every organization has a finance department which cannot run without a team of accountants. So, here are some varied accounting roles that companies would need.
If you have been hired as a controller or assistant controller by an organization, you will be required to prepare financial statements and reports that reflect and project a venture's activities and monetary position. You might also have to formulate internal strategies and processes required to run a company's budget organisation, cash and credit administration, and accounting protocols. Your average salary will be greater than $225,000.  
Companies will hire you to maintain their financial health if you wish to become a financial manager. You will have to create financial reports and formulate strategies that support an organization's long-standing financial goals. You can expect a salary of more than $130,000
Every organization wants to strategize to maximize profits and minimize expenses. However, it is only possible through the support of an expert management analyst or management consultant. If you wish to pursue your major in management consulting, then organizations will expect you to suggest improvements for operational efficiencies that will help enhance company profitability and regulate costs. Management analysts may earn on average $89,000 remuneration.
Personal Financial Advisor
Wealthy people are always in search of investment opportunities to multiply their capital. For this, they usually consult a personal financial advisor. So, a personal financial advisor is required to assist clients in understanding their financial health and making the right investment decisions. You will have to supervise the state of your client's investments and finances and offer suggestions about insurance, mortgages, savings, taxes and retirement. Personal financial advisors may earn similar to a management analyst i.e. $89,000 remuneration.
Do you like studying tax and auditing? Very few students have an interest in studying this category of accounting. However, it has a great scope. As a tax accountant, you will be required to prepare federal, state and local tax returns for people, organizations and commercial setups. You can easily earn more than $88,000 salary.
If you are an expert at accounting and love handling financial data, then this job opportunity is best for you. A company may hire you as a financial analyst to study previous finances and investment data, and project future profits and expenses which will serve as a guide to business investment decisions.
Every organization has an accounting department. So, as an accounting manager, you will be required to manage the department's operations. You will have to analyse and report financial info, help with tax processing, and formulate financial statements to present to the organization's directors. You can earn well as an accounting manager, up to $79,000 on average per month.
The budget analyst also has good scope in the job market. As a budget analyst, you will have to support companies to manage their finances, formulate budget reports, and monitor official spending. You will have to often appraise a company's financial plans for accuracy, comprehensiveness and compliance with regulations and administrative objectives. You may earn a handsome average salary of %78,000.
If you wish to specialize as a credit analyst then you will have ample job responsibilities such as reporting services, credit bureaus, and bank branches to appraise the loan profitability and accept or reject loan applications. You can earn more than $70,000 per month.
There is a lot of hype about being an accountant, as companies are eager to hire them at a handsome salary. The reason is that they handle complex tasks for companies such as preparing, maintaining and examining the precision of financial statements. Moreover, accountants ensure that all the financial statements and tax returns comply with state laws, protocols, and generally accepted accounting principles (GAAP). Else, accountants will have to figure out and resolve any inconsistencies occurring in the records, financial statements, or documented transactions.
Risk management is very important for every organization, so here comes the need for an auditor. Hence, internal auditors and audit managers ascertain financial and organizational risks and evaluate defiance with the government protocols. Moreover, they assess current internal company controls, detect areas for improvement, and may direct the execution of internal development efforts.
Have you ever heard about treasury analysts? They oversee a company's financial activity which may include cash flow, obligations, and assets. Moreover, they will have to evaluate the budgets, expenditures, and future reserves. It will help them determine whether payments coming to and from the organization are administered in the right manner.  
Information and Technology Accountant
In this modern era, careers in technology and accounting are growing in demand with more people opting for this field of study. One very potential career in finance is the information and technology accountant. The job will require you to manage and report financial data. You will have sound knowledge of accounting and IT both, and if you have good problem-solving skills, you are the best candidate for this job.
Does studying law interest you? Then why not explore the field of forensic accounting? It has the fastest growing job market in the law enforcement field. If you chose to become a forensic accountant, you will have to investigate scams and use your accounting aptitude to offer an expert opinion about lawful matters in a court of law. A successful forensic accountant is usually detail-oriented as they will have to present the reports in the law of the court. Solicitors, judges and juries will review the reports.
Chief Financial Officer (CFO)
If you love accounting and wish to earn high, then set your targets for becoming a Chief Financial Officer of a leading company. You might think, it might be a huge responsibility. However, in actuality, there are some key areas in which the CFO must excel such as financial management, developing business strategy, managing company financial performance, risk management, and making informed financial and business decisions. The role will require you to propose and enact revenue strategies, access financial risks and opportunities, and much more. So, CFOs are cross-functional leaders who can support a business's success.
Accomplished CFOs usually have many credentials, so if you plan to be one of those, you must work hard to earn CPA, MSA and MBA degrees. 
After struggling hard for several years in the accounting field, you may have a chance to become an accounting director. These professionals are offered great protocol and a handsome salary. The accounting director will have to coordinate budgets, gather and analyse financial data, and share recommendations with the departments.
Your roles and responsibilities will include devising and overseeing accounting procedures and policies. You will have to coordinate with auditors to plan, organize, and coordinate the year-end financial position, and ensure successful tax filing procedures.
Auditing and taxation go side by side. However, if you wish to pursue a tax-related job, you have good earning scope. Tax accountants are experts in rules, laws and regulations to calculate and prepare federal, state and local taxes. Moreover, as a tax accountant, you can offer many tax-related services to commercial setups and individuals that may including preparing and filing tax returns.
Your job responsibilities may include maintaining financial records and taxes for clients, preparing tax forms and documents, ensuring compliance of financial data with state laws and regulations, and remaining abreast with the latest commandments. 
Cost accountants are high in demand in the job market. These financial experts have a key role in an organization. Their job is to determine the real cost of manufacturing a product or delivering a service. As a cost accountant, you will have to use your knowledge and expertise to examine the related expenditures within the supply chain. Besides, your main purpose will be to prepare and present budgets and profitability analyses to the higher management.
If you wish to join any reputable organization as a cost accountant, your responsibilities will include developing cost benchmarks for the raw material and labour, managing yearly inventory, framing and implementing cost accounting systems, and examining production costs and suggesting changes.
Do you love management accounting as a subject? Then you are a potential candidate for a managerial accountant position. Managerial accountants will have to examine and relate info to capital expenditure decisions. For that, you may use standard capital budgeting metrics such as internal rate of return and net present value to guide decision-makers on whether it is feasible to proceed with capital-intensive purchases or projects.
Your basic job responsibilities may include analysing accounts and preparing reports, performing cash and fund flow analysis, managing liquidity, and evaluating performances.
What Skills Do Finance and Accounting Careers Require?
After you have explored multiple finance and accounting careers and might have found a direction, you must know that you need to develop an interdisciplinary skill set based on finance, tech, and communication.
Critical thinkers, good problem solvers, analysts, and effective communicators can use their financial knowledge, and technical and interpersonal skills to drive business success.
According to experts, good predictors, committed, hard-working, competent project managers, and people with sound accounting knowledge and technology skills can be successful accountants.
Besides, facts show that expert accountants and financial professionals (who have been working for many years now) need to adapt to the evolving technologies. So, you must work to sharpen your skill set.
For this, experts need to enrol in new training programs and courses that can reinforce their 21st-century skills, provide a pulse on market trends, study best industry practices, develop a strong network, and strengthen the up-to-date skills required to excel in this field.
Finance and Accounting Stance for Jobs
The US Bureau of Labour Statistics (BLS) confirmed that finance and accounting jobs are increasing in demand. More than 125,000 new job opportunities will be available for finance and accounting-related professionals in the present decade. A majority of the new job opportunities are a result of workers transitioning occupations or leaving the workforce. However, there is high competition in the job market especially if you wish to join leading accounting and business establishments. So, if you desire a well-reputed finance sector job, you must have a master's degree in the related subject.
BLS has also testified that finance professionals are probable to rise by 7% in 2030. Another great news is that pupils with master's degrees in accounting can expect a high salary. So, it is a better option than a master's in finance or an MBA degree.
How is Accounting Career Advancing?
Did you know that accounting is also referred to as the business language? Certainly, accounting expertise can redefine an organization's success. The reason is that pro accountants can help in every way from individual administrators to senior management positions within a company. So, if you wish to gear up your game, try to enrol in one of the best universities in the globe for an accounting degree.
Though you might be a very hardworking, competitive and talented student, however, you might still encounter many academic challenges. For this, Managerial Accounting Concepts will be the best support to steer you successfully through your academic journey.
How Does Accounting Degree Help in a Successful Career?
If you are a student, you should know that opting for an accounting degree can pave a successful career pathway. The doctrines of the accountant degree can meaningfully brace careers in finance, economics, auditing and management. You will have ample job opportunities in the public and private sectors.
According to a recent survey, a majority of the students seem confused about enrolling in an accounting degree. They must know that the moment you graduate; many job roles will match your expertise such as a financial manager, accountant, budget analyst, managerial accountant, credit analyst, budget analyst, and management analyst.
So, if you complete your graduate degree from a reputable university, you will have ample career opportunities lying ahead.
How to Flourish an Accounting Career?
Accounting degrees offered by world-leading universities offer candidates diverse accounting career fields to choose from. When you complete your foundation year, you can opt for a specialized field according to your interests.
The institutions hope to develop expert financial practitioners who can lead the modern business world. You will also learn how to advise your directors and executives in taking financial business decisions.
Keeping in view, the accounting stance for jobs is brilliant. You will have plenty of career opportunities in the public, private and non-profit sectors. Moreover, accounting students have sound concepts on how to calculate, report and analyse a company's financial health. Else, such academic exposures are sure to build your strong analytical and communication skills.
Pros and Cons of an Accounting Career
While a career in accounting has great potential, and many would be happy to pursue it, however, they must know the pros and cons of it. It will help them make better career decisions.
An Evident Career Pathway
As an accounting student, you will learn real-world and well-defined skills. Nowadays, when hiring candidates for a finance role, recruiters look for the same skills. So, you have an evident career pathway rather than other pupils who may choose to study other subjects. With specific skills and knowledge, you will be able to perform well in your job.
It's a Potential Job Field
Almost every organization requires an accountant, so you have a vast scope. You must know that accounting is an ever-growing field that is expected to grow in near future.
A good salary is a great attraction for everyone. When you look around, you will see that the accounting field has one of the greatest earning scopes. According to BLS, the median yearly salary of financial managers was almost $130,000.
While a job is a priority, your place of residence and environment are equally important for a good living standard. As there are plenty of accounting jobs in the market, you will have a great choice.
You Can Become an Entrepreneur
While some prefer jobs, many would want to use their creative and entrepreneurial muscles to establish their venture. So, if you have that spirit, and an accounting degree, establishing an accounting firm is an ideal way to upscale your career.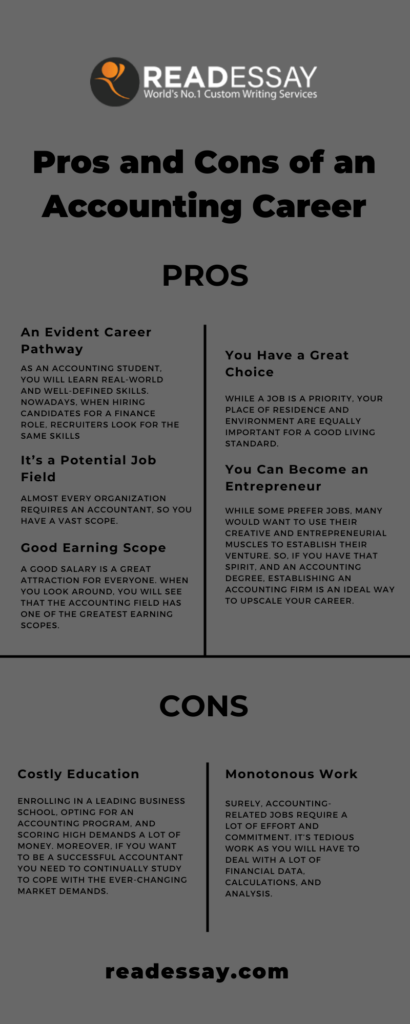 Enrolling in a leading business school, opting for an accounting program, and scoring high demands a lot of money. Moreover, if you want to be a successful accountant you need to continually study to cope with the ever-changing market demands.
Surely, accounting-related jobs require a lot of effort and commitment. It's tedious work as you will have to deal with a lot of financial data, calculations, and analysis.
While accounting is a potential career field that has diverse branches and job roles, it still requires motivation and dedication to succeed. A majority of the students may find accounting a boring subject, but once you know the concepts, you are good to go.
So, if you feel that your interests and life goals incline you toward the accounting field, you should avail the opportunity to live your dream career.