Principles of Marketing
MRKT-3013-0 (12279)
Fall 2014
Exam #1
Instructions:
Check to see if there are 2 essay questions.
Write down your name and student ID number on this test form below.
Compose your answers on the space next to each question using the WORD program. Do not share the same answers with other students. It is cheating behavior.
When you are done, submit your WORD answer file into the Dropbox "Exam #1" of D2L before 11:59 pm on September 15, 2014 (Monday). If the WORD file is submitted after 11:59 pm, there will be a severe penalty on your grade. Check your grade on D2L later.
Student name and ID:________________________________________
Essay Questions (80 Points in Total):
Direction: You are given two essay questions. For each question, provide concise and creative answers. If necessary, you may provide some relevant examples to clarify the answers.
In a smartphone market, Samsung and Apple are currently competing with each other with their existing and new brands—i.e., Galaxy S5 vs. iPhone 6 and Galaxy Note 4 vs. iPhone 6 Plus. First, discuss how the current product portfolio with two brands for each company makes it possible to gain competitive advantages in the current smartphone market using the concepts of customer value and value proposition. You may consider the selling point of each current portfolio. Then, choose one company and suggest your recommendations on a future move to survive and grow in the current competitive market. For instance, you can suggest a new product portfolio with Galaxy S6 and Note 5 for Samsung or iPhone 7 and 7 Plus Apple. (40 points)
Apple with its current product portfolio gains its competitive advantage by offering its customers the most innovative hardware, software, and services through one common device because of its strong vertical integration that allows the company to have better control over its quality. Apple keenly focuses on its customer's demands and needs and in this regard, with its iPhone 6 and iPhone 6 plus, the company fulfills its customer's needs of a large screen, improved camera, and longer battery life. Besides, Apple creates value for its customers by differentiating its products from its competitors and offering them at premium prices. Apple's before product launch hype created by its advertising team attracts its loyal customers who are already using Apple products by offering innovative features, stylish design, and an upgraded version of its old products. Lastly, Apple's strong brand image and brand loyalty satisfy the customer's psychological needs of prestige, status, and possession which drag them to become the first buyer of the new version.
Samsung this time proactively respond to its major competitor Apple by offering two of its best Smartphones in competition to Apple's two new products. Samsung with its Galaxy S5 and Note 4 is gaining a competitive advantage by offering a new version of its existing Smartphone to its loyal customers who are more comfortable with the larger touch screens, android-based system, high-end specifications, sleek and edgy design, and more real estate. Samsung offers its customers all those features which are present in Apple Smartphone along with additional innovative features like Kids Mode and heart rate monitor, at relatively lower prices than iPhone 6 and iPhone 6 plus. The new edge screen and the best display of Note 4 allow the device to offer a more stylish and attractive look. Besides, the 16 megapixels camera of the Samsung Smartphone allows the device to beat iPhone as this feature is of great value for customers.
After the death of Steve Jobs, Apple needs to maintain its strong leadership and market value to sustain itself in the competitive market. For this, the company should continue following its strategy of offering high-end products to a niche market at premium prices and having a limited product portfolio. In the future, Apple should come up with more advanced versions of its existing products like iPhone 7 and iPhone 7 Plus so that its loyal customers should remain loyal by purchasing the series of its smartphones instead of switching to its competitors. Lastly, Apple should maintain its brand image of a high-end product and a product of the elite class so that people should continue to associate their image with the brand.
As a member of the management consulting group, you have been hired by a business-to-business office equipment manufacturer. Currently, the company is managing a collection of five strategic business units (SBUs) in its business portfolio, as shown below. Answer the following questions from the perspective of a business portfolio. (40 points)
Discuss why it is critical to diagnose the effectiveness of any business portfolio using the BCG growth-share matrix approach. (20 points)
Draw a BCG matrix using the information in the following table and attach it to your WORD answer file using the copy and paste function. Depending on the outcomes of the BCG matrix you draw, diagnose the current status of the company's business portfolio and suggest some recommendations of what kinds of future actions the company should take. (20 points)
Strategic

Business Unit

(SBU)

Dollar Sales

(in millions)

Number of Competitors
Dollar Sales of

the Top 3

(in millions)

Market Growth Rate
A (copy machine)

B (laser printer)

C (inkjet printer)

D (office computer)

E (fax machine)

5.0

0.4

2.4

4.0

1.0

5

4

20

5

15

5.0,0.5,0.5

4.0,0.7,0.4

2.4,1.2,1.0

4.0,1.0,0.7

1.0,0.2,0.1

25%

2%

8%

5%

14%
It's important for a manufacturing company to keep an eye on its product portfolio and how each product is performing in its respective market. It's critical to diagnose the effectiveness of a business portfolio using the BCG matrix because the BCG matrix allows the company to understand the market positions of its products and to diagnose where each product stands presently and what could be the future of each product. Based on its two dimensions which are Market share and Market growth, BCG Matrix allows the company to monitor the overall return on the management input in the business portfolio and helps the managers to evaluate and maintain a balance amongst the Stars, Cash Cows, Question marks and Dogs. Lastly, it allows the company to take strategic decisions and to do better future planning.
BCG Matrix: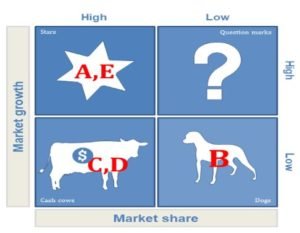 According to the BCG Matrix, the company's SBUs are performing quite well as there are two SBUs who are serving as Stars and two are serving as Cash Cows with only one Dog.  For its Stars SBUs, the company should continue to invest highly in the Units as they have high market growth opportunities and could bring higher returns for the company. For its Cash Cows, the company should continue to invest in these SBUs as they will help the company to generate high incomes and the cash generated by these SBUs could be used for other Business Units. While there is no question mark in the company's product portfolio, there is one Dog which is the Laser Printer who has a high market share by the growth rate is quite low because of the new advancements in technology. For its future, the company should keep an eye on the growth rate of the market and if the growth rate remains lower then the company should liquefy these SBUs and should found other SBUs with high market growth.